UNI Mobile scaffolding
It is designed both for outdoor and indoor works
For assembly, the segments of HAKI IV are used so that its erection is very simple. Basic dimension of the field is 1,25 x 3,05 m (transom beam 1,2 m, longitudinal beam 3,0 m) other dimensions can be adjusted according to the dimensions line of facade scaffolding (2,45 m x 1,25 m; 2,45 m x 1,05 m; 2,45 m x 0,71 m and 1,5 m x 1,25 m).
The advantage of this type of mobile scaffolding is dimension of the undercarriage which does not extend the scaffolding floor projection and its versatility for all modules. UNI mobile scaffolding can be interconnected with another mobile scaffolding to achieve wider working area and also more rigid set.
The maximum working height is 14,5 m.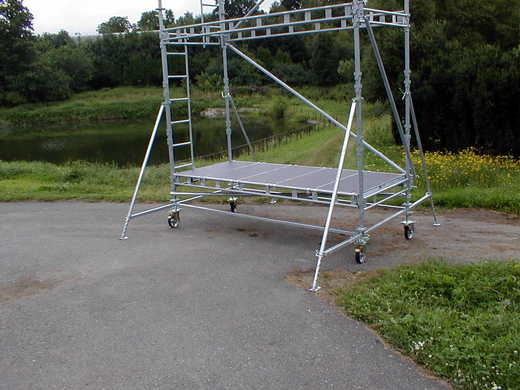 Scheme of UNI Mobile scaffolding